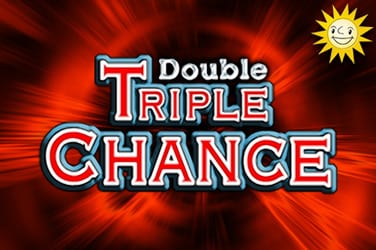 Double Triple Chance
A classic fruit game from Las Vegas
Welcome to the fun and glittering world of Las Vegas, where anything is possible. This backgammon game combines the classic fruit fun with a 70's smoke-filled casino and a great soundtrack, which gives you exactly what you need for a pleasant and entertaining experience. Who needs a complicated modern game when you can combine it with a classic one and make it even more fun? With Double Triple Chance you don't have to wait long to start collecting your winnings. If you like colours and fruity vibes, you are going to love this slot machine.
The basic construction consists of a minimalistic design with 3 reels and 5 fixed paylines which are evaluated from left to right. On the reels you will find the common slot symbols such as well-known fruits like cherries, oranges and lemons. These are all lower valued symbols. Other symbols include the diamond, golden bell and the lucky number 7, which will multiply your winnings accordingly. If the same symbol appears in all positions this will trigger a bonus game with 7 reels, 6 of which will double your previous win. Only the last red reel finishes the round without multiplying your winnings. You can keep playing until you land on the red reel and then it is time to admire your earnings.