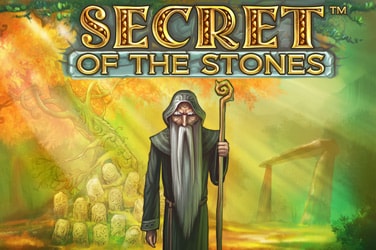 Secret of the Stones
Set in the ancient world of Celtic mythology, Secret of the Stones is a really good looking slot game from NetEnt. Designed in classic Stonehenge-style, the symbols are high quality stone carvings of different spiritual animals such as snakes, wolves and owls. The feeling of the game is further enhanced by the ambient sound accompanying the stone theme. With carefully selected colours, Secret of the Stones sure is a beautiful slot game.
In terms of the game features, Secret of the Stones is great too. You have the Wild, which can substitute for other symbols to help you form winning lines. You also get the Free Spin mode, and a bonus game within the Free Spin mode. In this bonus game, 20 stones and a druid will give you the shot at picking three to five stones and getting the bonus that each of them represents. Moreover, you also get functions such as multipliers and Wild reels. Combining the cool and well made graphics of the game with the many possibilities of winning, Secret of the Stones is really a slot game worth your time.